E-Case report
Bechterew's disease ankylosing spondylitis (AS) in T7/8
Posterior fixation T5 – T10 Stefan Piltz, PhD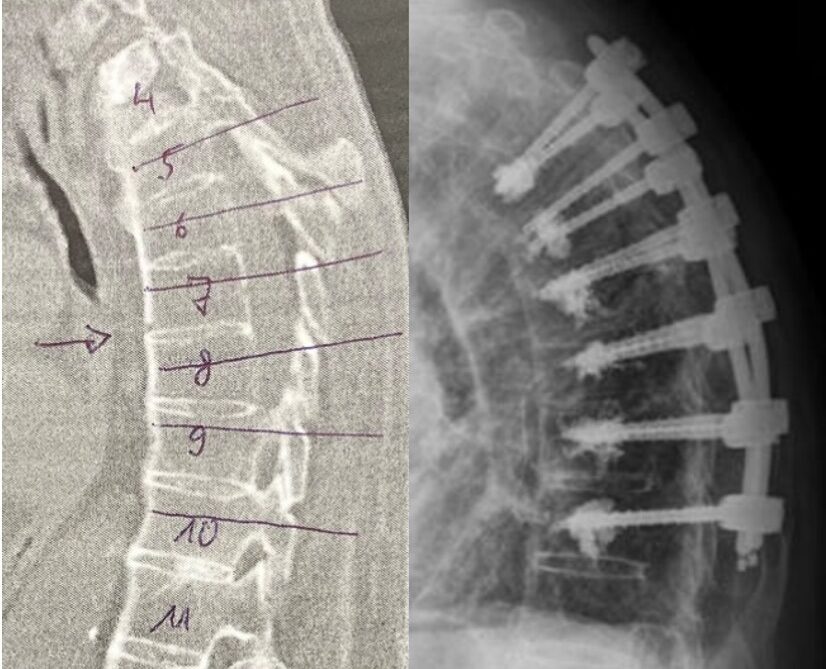 Clinical Case – Bechterew's disease ankylosing spondylitis (AS) in T7/8
Posterior fixation T5 – T10
Neo ADVISE™ fixation module
Prof. Dr. med. Stefan Piltz
Head of Trauma Department
Orthopaedic/ Trauma Surgeon
Klinikum Coburg
Coburg, Germany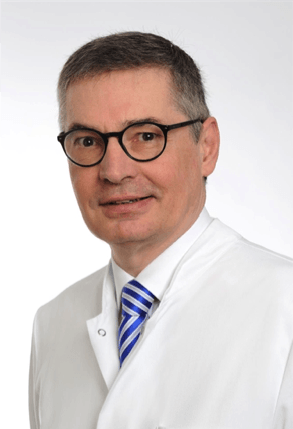 Patient Information
Male 90 years old patient diagnosed with ankylosing spondylitis (AS) in level T7/8.
Bechterew's disease
Poor bone quality
Reduced lung function
Poor kidney values
Planned Surgery:
General Anestesia
Posterior fixation T5 – T10
Minimally Invasive Surgery
Percutaneous access
Neo ADVISE™ application to be used




Pre OP CT sagittal & axial views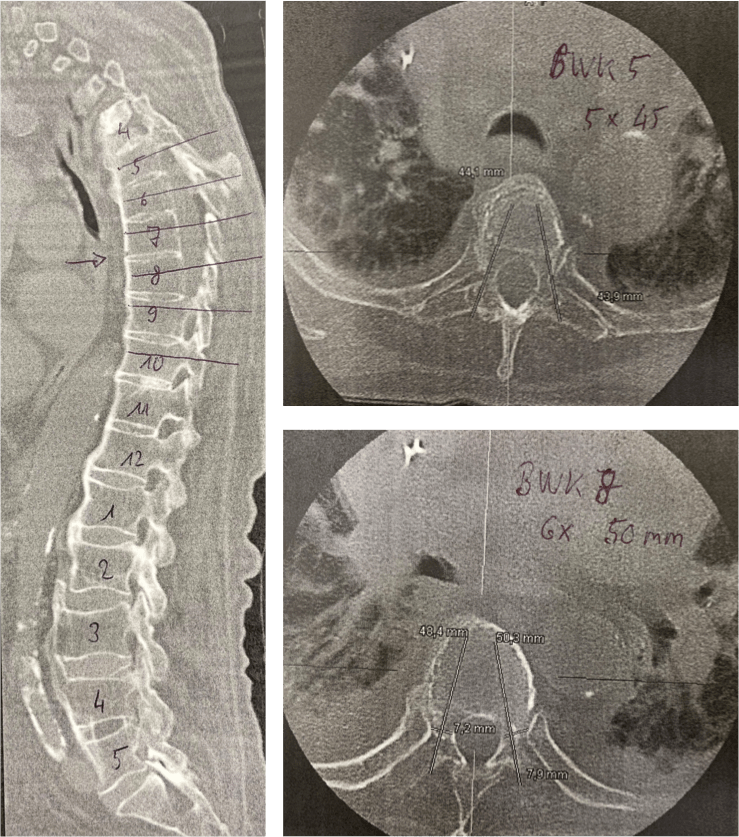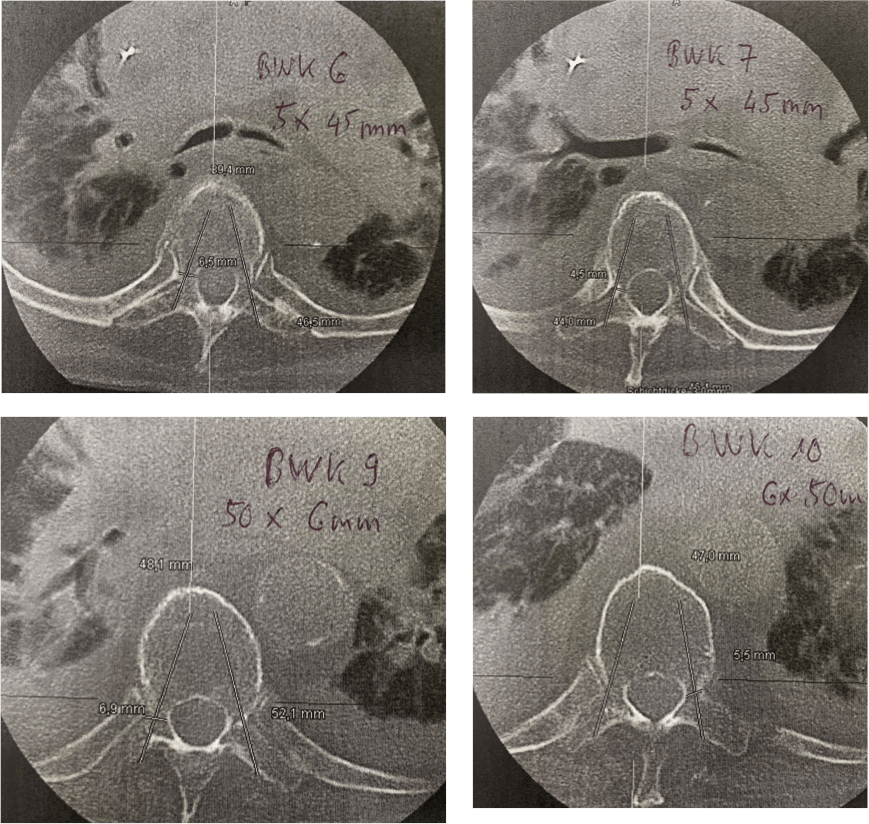 Posterior fixation with Neo Pedicle Screw System™
Totally 12 pedicle screws placed over the 6 vertebral levels T5 – T10
T5 – 2 x Ø5.0 x 45 mm
T6 – 2 x Ø5.0 x 45 mm
T7 – 2 x Ø5.0 x 45 mm
T8 – 2 x Ø6.0 x 45 mm
T9 – 2 x Ø6.0 x 50 mm
T10 – 2 x Ø6.0 x 50 mm
2 x 160 mm straight titanium rods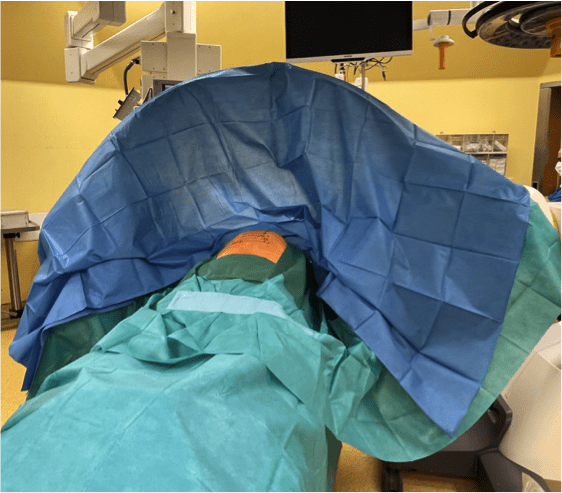 Preparing for the surgery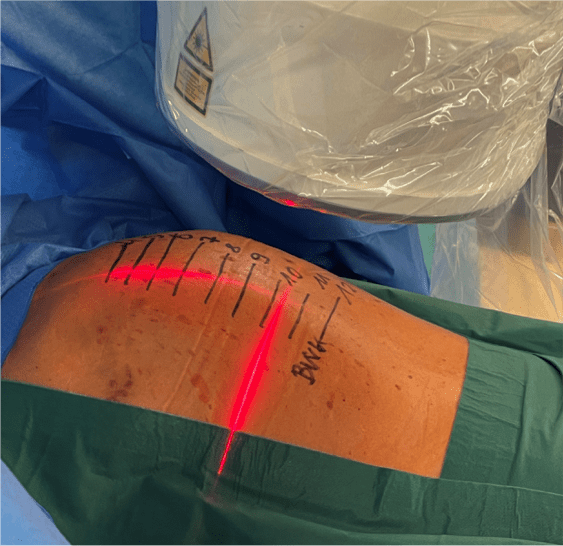 K-wires to guide the placement of the pedicle screws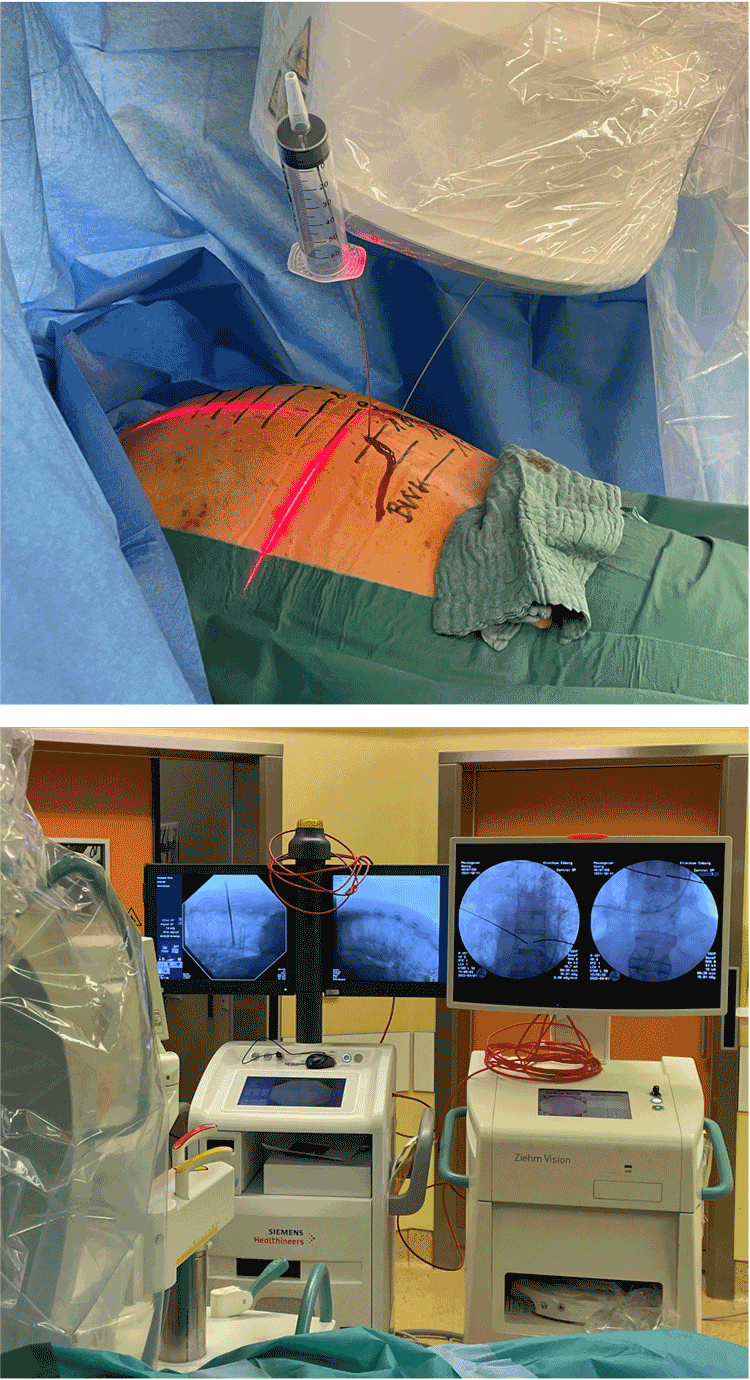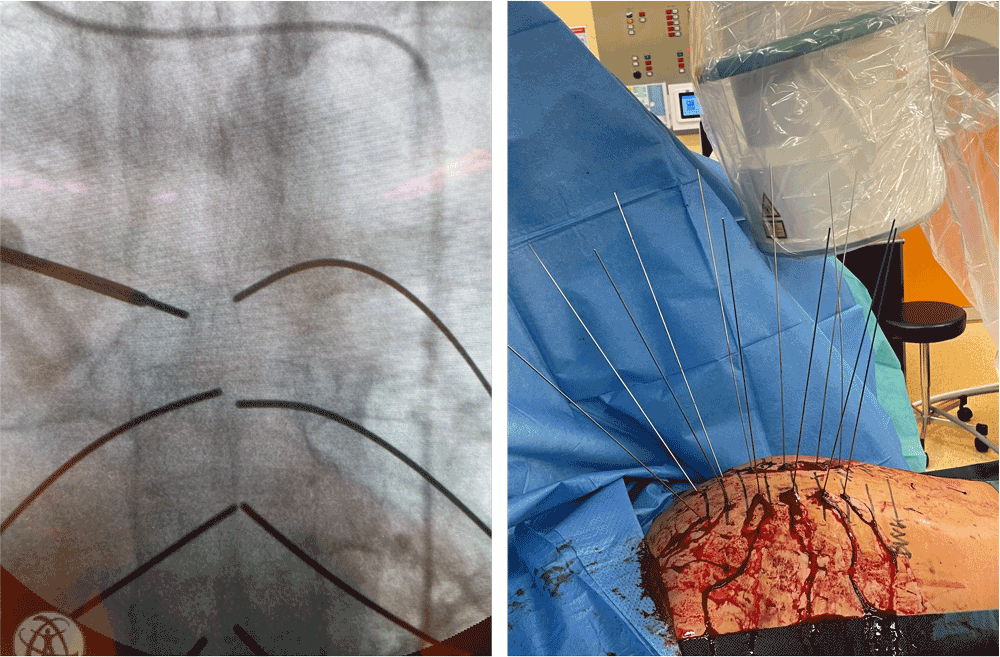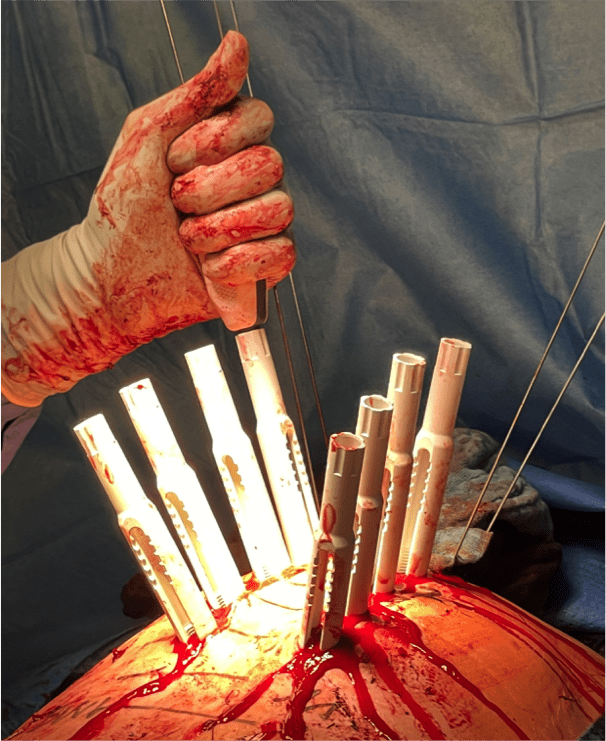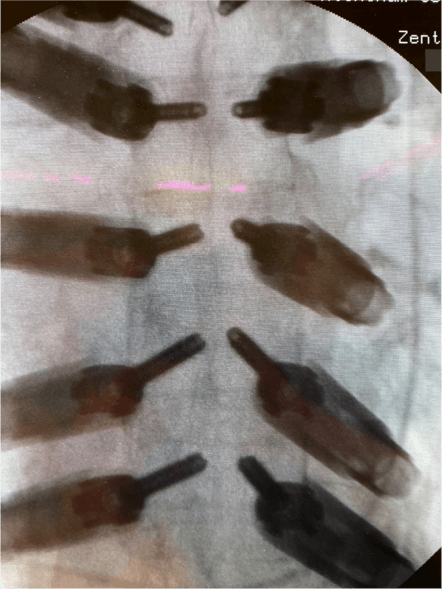 Pedicle screws are placed




All screws are cement augmented with 1ml cement per screw injected.
Neo system pedicle screws are all cannulated and fenestrated.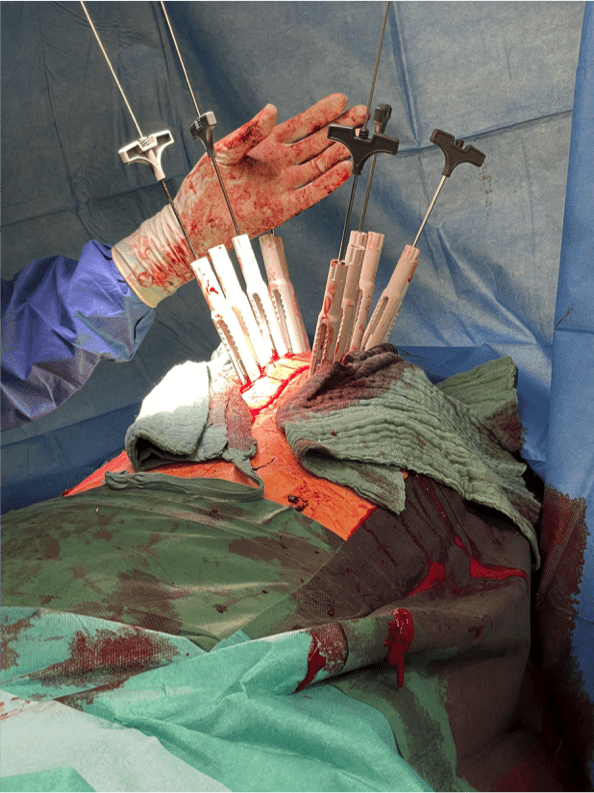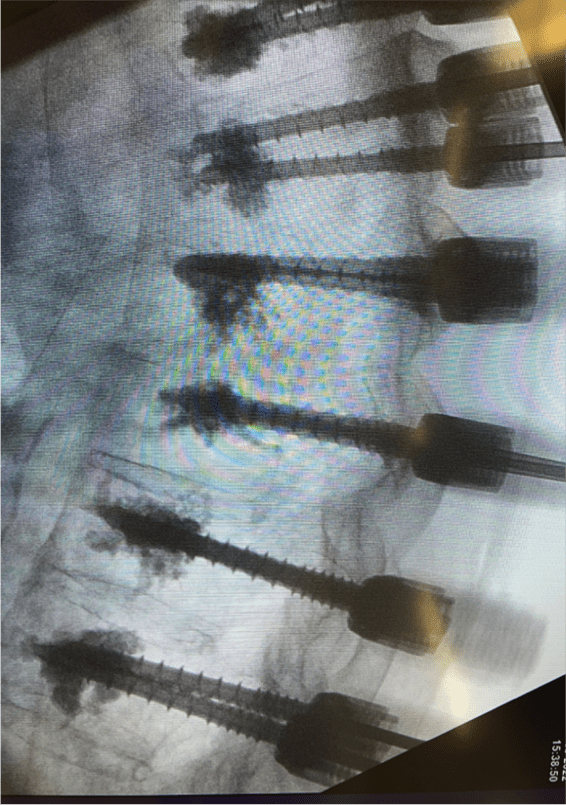 Scanning the screw extenders, access and analyze of the data, rod selection, and getting the visualizations of the ideal rod bending, in both the sagittal and the coronal planes, in the iPad screen.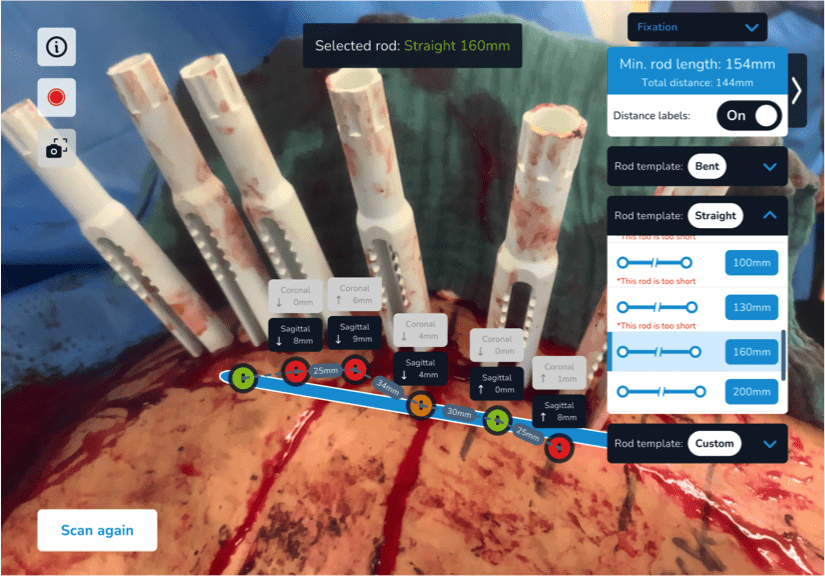 Visualizing the off-set in both planes relative to the screw heads in relation to the selected straight 160mm rod.
The screw adjustments are color-coded into the virtual screw heads. The colors green, orange, and red indicate different levels of adjustments.




Rod bending using the rod visualization in the iPad screen as template for the sagittal and coronal planes.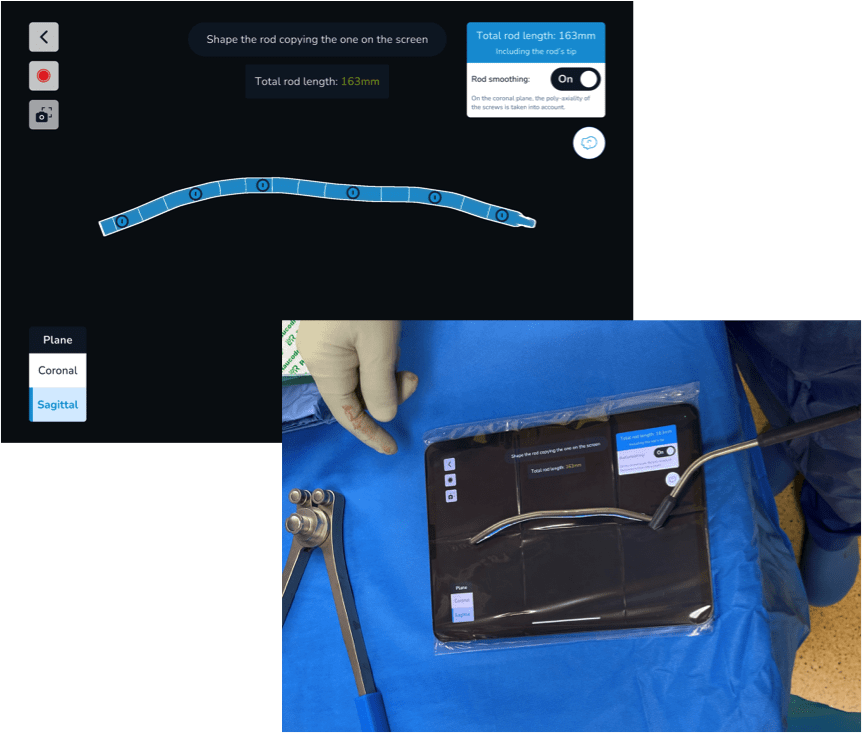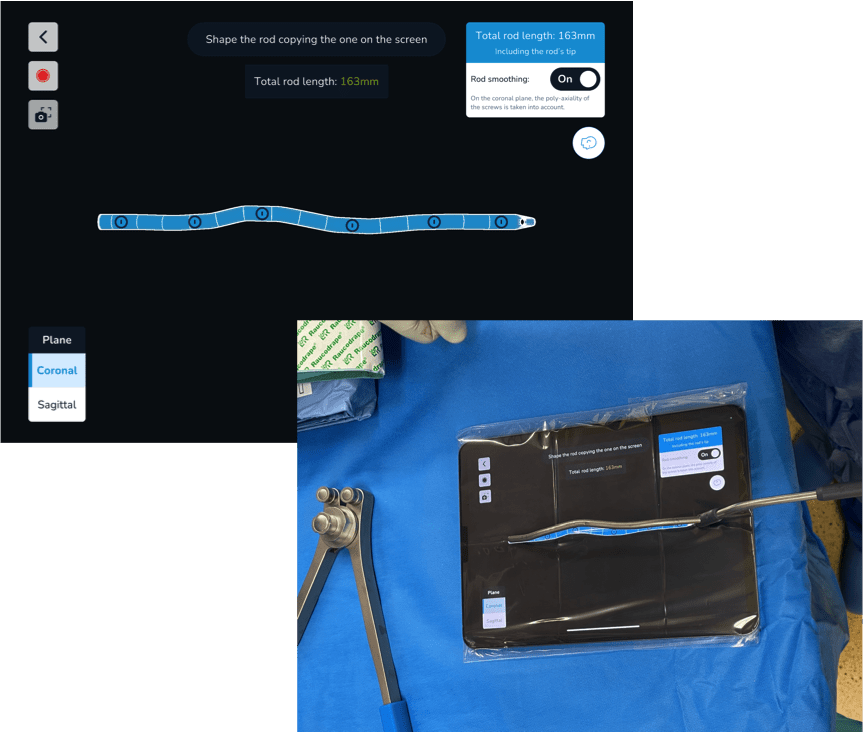 Placement of rods and final tightening of the screws, left and right sides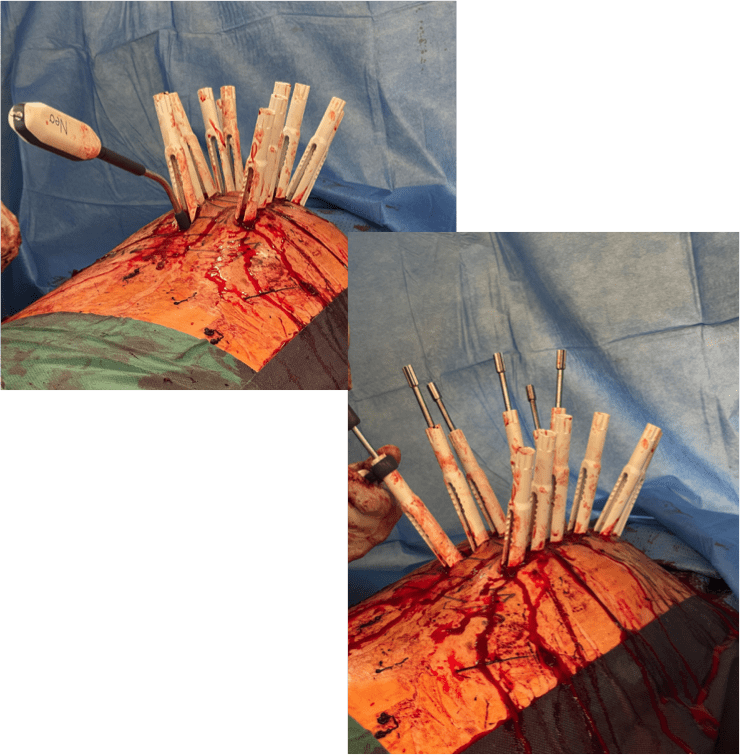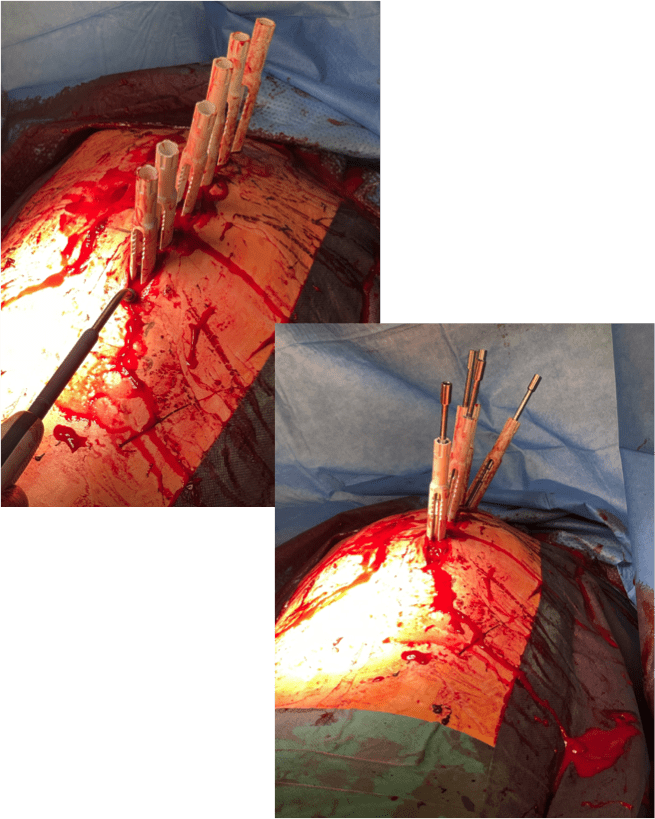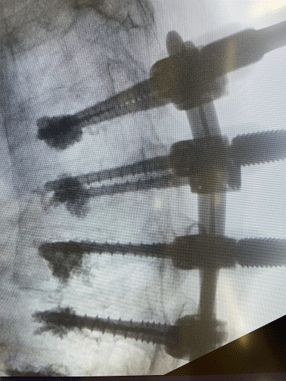 Post

OP
Radiographs after final fixation of the posterior construction in frontal and sagittal views
Intra OP bloodloss:   500 ml
Duration of surgery: 180 minutes
Neurological status: OK
Patient was discharged from hospital after 20 days.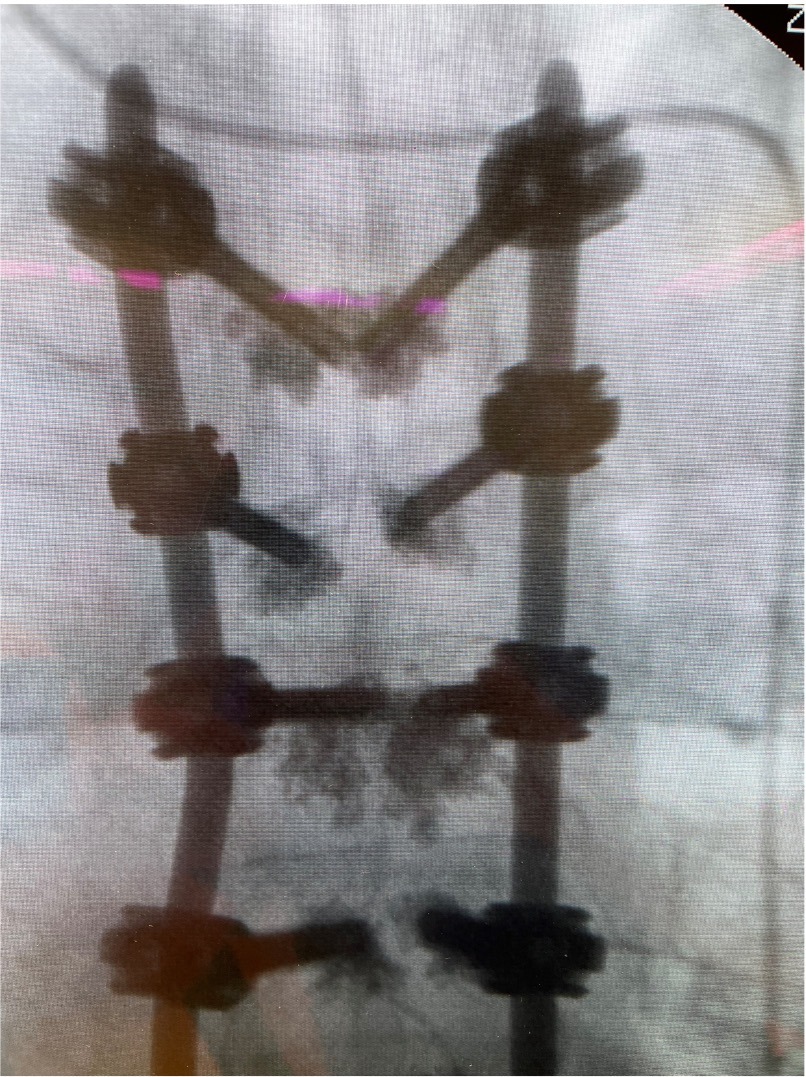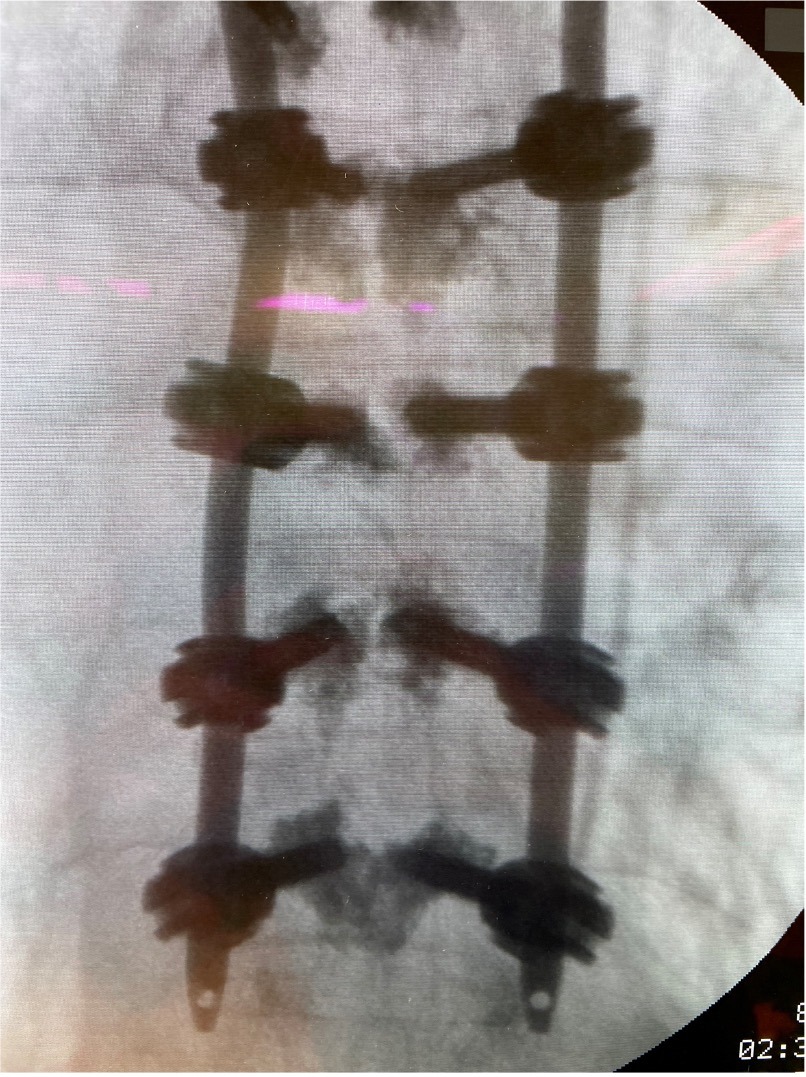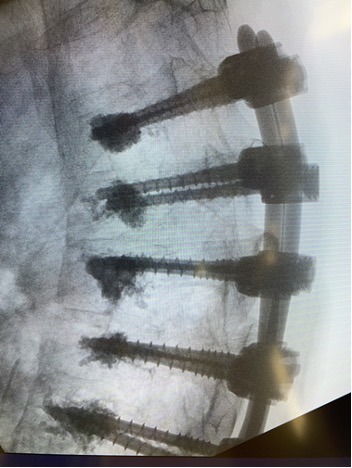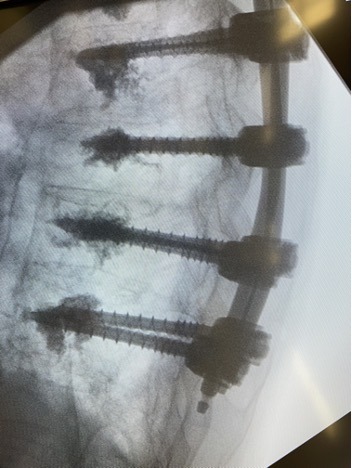 Follow Up visit
Standing radiographs were taken a few weeks after the surgery took place.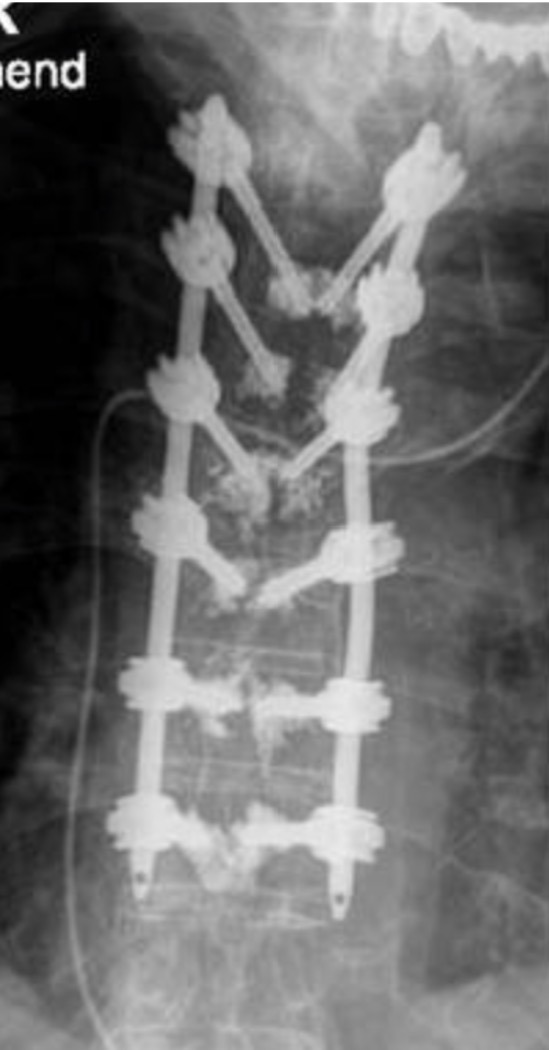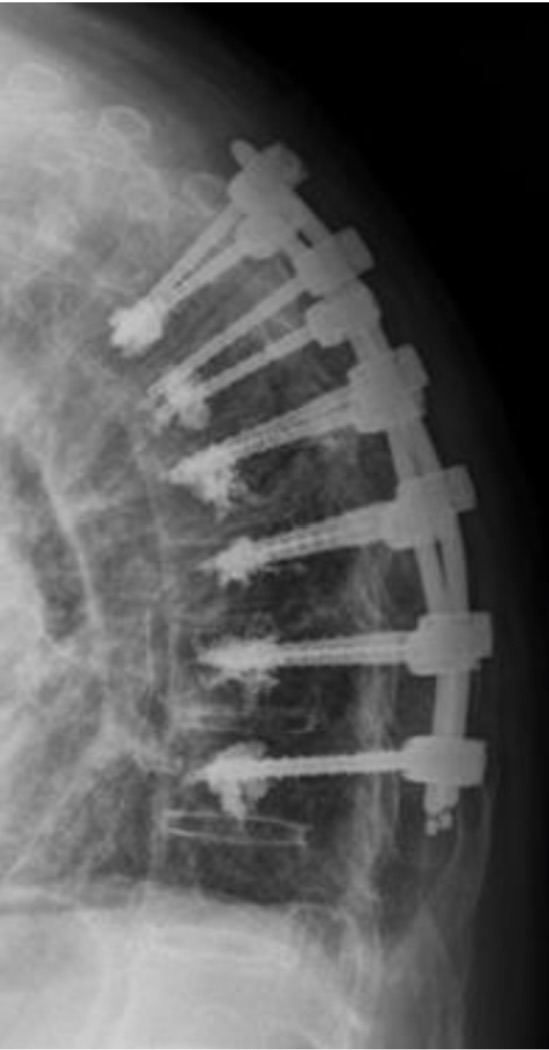 Published with the approval of
Prof. Stefan Piltz